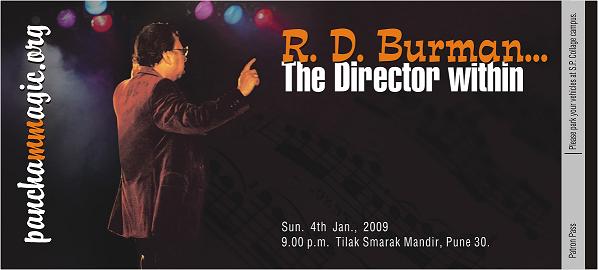 Guests
Rahul Rawail – Director
Sampath Kannan– Recordist
Amrutrao Katkar &  Viju Katkar – Percussionists
Mr. Homi Mullan & Mr. Ranjit Gajmer alias Kancha – percussionists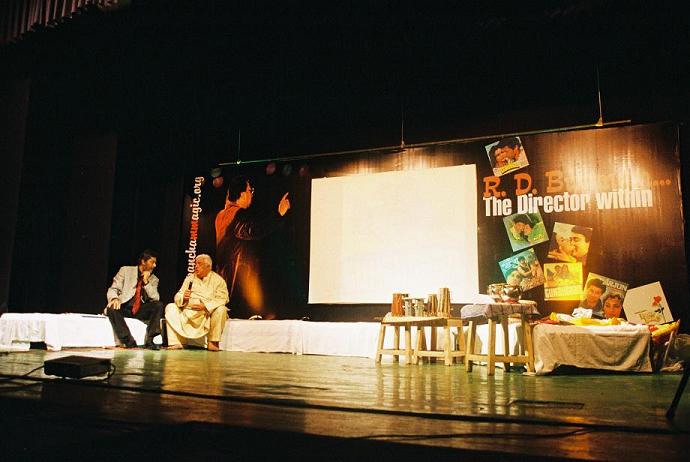 Panchammagic members were again at their usual best to come up with yet another tribute to Panchamda on his 15th death anniversary at Tilak Smarak mandir, Pune.
The show as usual was a full house, and this time we had guests like Mr. Sampath-The sound recordist from Madhur Dhwani studio, Mr. Rahul Rawail- a well-known Director, Mr. Amrutrao Katkar & his son Mr. Viju Katkar both percussion musicians and Mr. Homi Mullan & Mr. Ranjit Gajmer alias Kancha again the percussionists.
This time the theme for Ankush's initial tracks portion was songs without M 1 music…i.e. after the mukhda or sign line, interlude is non existent and song goes to stanza straight away.
Tracks like Aise na mujhe tum dekho from Darling Darling, Aaj kahee mat jaa from Bade Dilwala, Tu pyar tu preet from Rakhi aur Hathkadi, Dil haye mera dil from Paraya Dhan, Kahe ko bulaya from Humshakal, Jab tak hai jaan from Sholay,  Tujhse naraaz nahee zindagi from Masoom,  Dil lena khel hai from Zamane Ko Dikhana Hai, Jeevan ke har mod par from Jhutha Kahin Ka, Kal kya hoga from Kasme Vaade, &  mera kuchh saman  from Ijaazat were played. These tracks are variety of songs which have no fixed principle as why Pancham would have done it without M 1….but that's Pancham again…impredictable..!!
Mr. Sampath was the next invitee on stage by Ankush… Sampath ji  has worked with Panchamda on films like Anyay Hi Anyay, Purushottam, Puraskar, Swet Pathrer Thala & albums like Dil Tera Hua and Tera Mera Pyar Jawan with sapna Mukherjee and Usha Uthup respectively. These were originally done in Bangla too which sound much better than in Hindi.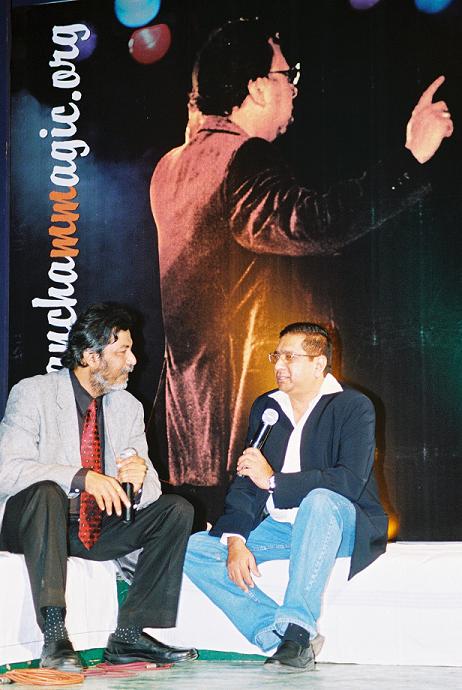 Sampath ji  told audience about the way Pancham used to deal with him giving him entire freedom to the technique and what exactly he expected as final sound.
Sampath ji said he learnt a lot from Panchamda, as how to record particular sounds…like he always used to say, go to musician listen to his instrument and then see that the same sound is heard when one records…he recalls, how Pancham's sound was very much different, crisp and clear than his contemporaries when musicians were same, instruments played were same and studios too, were same..!
Sampath ji narrated that once was in his studio for a recording, there was lunch break and no musician was around, when Pancham da had suddenly wanted to record a pattern in calypso, so he called for Sampath ji and asked if any one was around….a musican came out off toilet and Panchamda got hold of him to collect hammers whatever were there for tuning of Tabla and asked him  to play calypso pattern on hammers…to everyone's surprise, he recorded that piece and was kept in one of the bangla songs sung by him.
In another incident, while recording a Usha Uthup song Bati nei in bangla, he wanted an effect of electricity failure in recording as the song bati nei.. bati nei.. kolkata the bati nei.. (no electricity in kolkata) so while the M1 was on,.. suddenly the music dies for a while…which was recorded on a recorder and actually the power was cut purposefully(switching on & off the recorder), then that recording piece was punched in between this bati nei song…who else but Pancham would think this amazing stunt in a song..!!
Sampath ji had tough time to narrate about Pancham , due to their very very informal & friendly language they used to chat in with lot of #hash, *stars, :colons and x es  that is a series of bad words flung across so naturally(which are denoted by these type keys!!)…those words simply cant be muttered on stage or otherwise….but to our privilege we all at panchammagic got to hear it most naturally offline with Sampath ji..!! it was a great fun..!!
While recording with Usha Uthup on song Shukne go Kopale, Pancham da  was suddenly heard saying, I am going to be run out in my second innings , I wont reach the crease…every one around was sad, this was very touching…after that song pancham hardly recorded any song till he breathed his last.
We put on Sampath ji's favorite Pancham tracks…Agami Shishura by Usha Uthup, Dil pukare from Jeeva, Dilbar dil se pyare from Carvaan, Manona & Bati Nei by Usha again in Bangla…this time bangla tracks was the great treat to all audience.
Next in line on stage was Film Director Rahul Rawail.. who has given films like Betaab, Arjun, Dacait, Samundar, Love story, Biwi o Biwi, & Gunehgaar.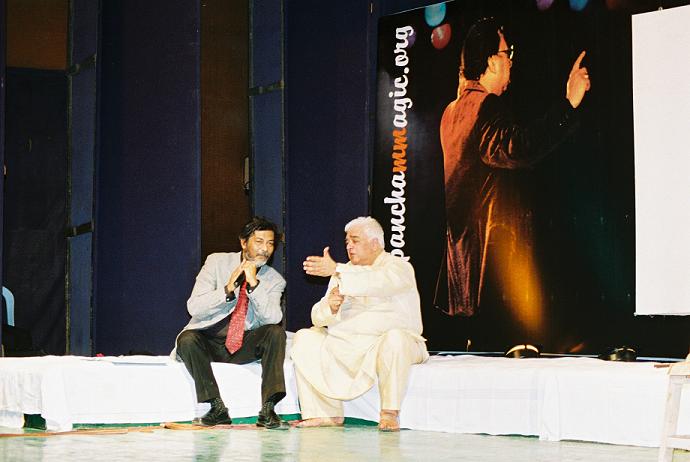 His entry was highlighted on stage by playing  AV clip of Betaab's title music, which is amazing in its own way and lot of people were just waiting for that title music to be played on stage..then followed the wonderful interview in which Rahul ji stated how pancham used to think about visuals while composing his music…instead of director narrating him what he wanted..Pancham used to give him a ready design for shooting..that was a great contribution from a music director..!!
Rahul ji stated, once Pancham had sent him wrong track of Teri yaad aa rahi hai to Kashmir where they were shooting….and they continued shooting while female voice was lip synched by Kumar Gaurav and male voice was lip synched by Vijeta Pandit…when Rawail ji called back Pancham for his mistake of sending wrong track, he merrily said keep it as it is…achha lagta hai..!!! that was on lighter side ofcourse..!!
Next we played some background scores for film Arjun, and Rawail ji narrated how effective it was in a song to picturise chase, & fight sequence which was hardly done in a hindi film before… the song was Mamiya kero mama….with sounds of hand chutki, lots of electronic sounds..the effect was really mind boggling.
The similer incident was for another  scene in Arjun where murder is shown after lot of chase thru rains and umbrellas….Pancham's apt music brings goose bumps on body and scene is lifted to such a great height…!! The same goes for Camel scene in Dacait…again a havoc played by Pancham's background score and Rawail ji's taking of that scene..!!
This time we had interaction with Rawail ji from audience as well when some persons from audience raised questions on background music for particular scene, some asked about how Mamiya kero mama came into song what does it mean, to which Rawail ji said it was Pancham's idea to adopt these words from a Portuguese folk and no one knows meaning of it..!!  One person asked as why he had chosen Shabbir Kumar for playback of Betaab songs…!! Lot of panchamites wanted to know it actually…smilingly Rawail ji could not guess his intention of asking…said maine koi galti to nahi ki na?…but ultimately saying he had done a good job on songs..!!
Medley of songs on AV was played incorporating Samunder, Betaab, Biwi o biwi, Dacait & Love story….first time in panchammagic shows the guest appreciated so much  for audience and panchammagic for love of Pancham da's music, the way it was presented and appreciated that Rawail ji asked lights to be put on in theater and recorded on his mobile a video for his own record..!!!
Next event was to unveil the calendar of 2009 specially designed by Panchammagic for audience and special launch of DVDs of Pancham-Asha and Pancham-Lata songs by Shemaroo's Jai Shah….all the guests were called on stage and unveiled the said products to the background tune of famous trumpet of intro music of Bachna ae haseeno..!!
Curtain went up after an interval to reveal a full set up of percussion instruments & Amrutrao Katkar with his son Viju with their assistant musician on dholak Mr. Prabhakar More….Ankush started with interviewing kaka(Amrutji,whom we lovingly call kaka)…though kaka had graced the show in 2001, lot of people wanted to have glimpses of him playing finest reso reso and other side rhythms with pancham….we showed how effective he had played reso in songs like wohi chal mere dil from Shaukeen…Sach mere yaar hai from Sagar…Mere samnewali khidki from Padosan..Dil diya hai from Ashanti..etc.
Kaka played to perfection the demo of Padosan, Sagar and Ashanti….once he was just fingering his reso reso in unusual way when pancham heard him and caught his pattern…asking him to remember and using it in a song of Ashanti…in same manner many other songs had his reso..not only in Bamboo but made of plastic and metal too….kaka played metal reso live in songs of Nisha and Jane Ja from Sanam teri Kasam…it was amazing..!!
Other incident was ofcourse of playing pat on his back for the song in Darling Darling's Raat gayee baat gayee….where Pancham had himself played his hands in a pattern on Kaka's back..!! the narration of Kaka for this incident brought audience in splits..!! as how Panchamda asked him to take off his cloths and how kaka was embaressed to core..!! many time his percussion collegues Homi and kancha used to come up with his name to Pancham to play unusual things in his music…their rappo with each other was really great..!
Kaka showed audience as how he was the main tempo player by just playing wooden sticks in constant tempo in title music of The Burning train by playing it as original..!!
Kaka had also composed the rhythms of Hum Kissise Kum Naheen qawwali as Marutirao Keer(chief rhythm arranger of Pancham) was on tour with Kishore da abroad….so Panchamda had called up qawwali specialist Iqbal and Sattar bhai for typical dholak pattern…Kaka was told by Pancham to get the rhythm in place…while doing so his usual habbit of fingering instrument, Pancham caught up Kaka's fancy of playing off beat or Ulta rhythm on tabla…that's it….he immediately asked him to play it that way…very unusual in qawwali while Iqbal and sattar go conventional…!!
When the take started, those two got confused on Kaka's tabla pattern and started cursing him…then Pancham intervened and told them that he was the one who had asked Kaka to play it that way…then Kaka played via media…keeping some part Ulta and some conventional…that's how that qawwali got recorded…we can notice the kaka's pattern while listening to it specially in interludes..!!
Viju Katkar was next to enthrall the audience with his contribution of tumba in Aisa kabhi hua nahee from Ye Vaada Raha…Hand chutki in Mamiya kero mama…Water bells in ye din to aata hai from Mahaan,…and the most superb was fabulous tabla playing in jane kya baat hai from Sunny…and all the songs in Dil Padosi Hai..!!
Surprising thing was Amrut kaka had played tabla in bangla version of jane kya baat hai…chokhe naam brishti…and 14 years later Viju played the same song in hindi..!!!
Viju demonstrated the same on stage to perfection…other demonstrations were water bells…and height of the show was the entire rhythm of Chunari Sambhal gori from baharon Ke Sapne….this was the highlight with only More and Viju managing the long and mind boggling rhythm of this song, originally composed by Marutirao…Viju had Chanda..reso…ghungroo…tabla..whistle..sticks..small pair of drums…duggi on stand and More had dholak to accompany….Viju played the intro, m 1 all alone by moving zippy from instrument to instrument to create a fantabulous effect on track accompaniment..!!
Viju Katkar was a real show stealer with his energy, efforts and friendly gestures on stage with Ankush…Viju has promised that still lot is remaining to show for audience and he would promptly come in future shows too..!
Then was Kancha ji with his usual best, the signature instrument of pancham, the Madal…showed us the madal tarang on track of Tere Bina Jiya Jaye Na from Ghar…much complicated pattern of Mehbooba from Sholay and Ek Ladki Ko Dekha from 1942 A Love Story..If Kancha ji on stage, why would Homi ji left behind?
Homiji is like a family member of Panchammagic and favorite of Puneites played Chanda for Bachna Ae Haseeno where he had originally played too.. then came the amazing Castranuts on Matwali aankhonwali from Chhote nawaab…..Actually, it was already 1.30 am and theater management hurrying to wind up..we had no alternative but to wind up leaving lot of measure track playing of Homi ji & Kancha ji to some other time..!
Kaustubh Ghaisas, a Panchammagic member this time gave away with bouquets and memento to all the guests for their participation and yet another  dedicated tribute to Pancham da came to an end.
Thanks so much to all the guests, audience and all friends at Panchammagic who always give something from their heart with their efforts.
SANDEEP KULKARNI
---