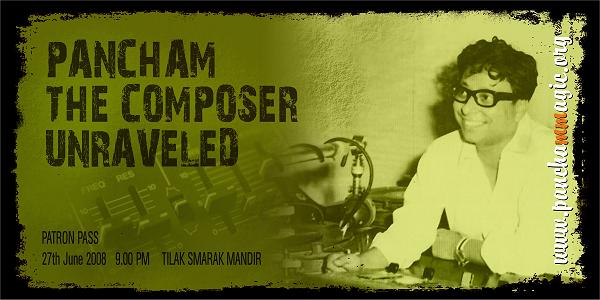 Guests:
Raj N.Sippy: Director
Ashok Shukla: Recordist
Shyam Raj: Tenor Sax, Suprano
Pancham: The composer unraveled. As in the past, this year's birthday celebration theme attempted to unearth and jointly explore some more creative facets of composer Rahul Dev Burman's musical output. As an unabashed loyal fan, I was glad the next 6-month long impatient hiatus had come to an end. The colorful metro city of Pune gestured with its open arms…It was difficult to resist the lure of another exciting Panchammagic voyage – an ongoing promise to discover and live through more and more crests of the composer's vast work.
The familiar venue of Tilak Smarak Mandir has now become synonymous with Panchammagic and host Ankush, the 'Sutradhaar' for these events. The ambiance overflowed with expectation as a 'vandan' (greeting) in the form of "Tumi koto je dure" received viewers to the show. The introductory premise 'Tempo in Pancham's songs' attempted to delve in to the different styles of and various influences on the pace in RD's songs.
"Aap ke kamre mein koi" (Yaadon Ki Baarat, 1973), the evening's debut song, set the ball rolling with its first 'unheard' piece of information. The popular club number has its origin in the title music of SD Burman's 'Sujata' (1959) – though with faster pace. Ditto with "Lallaa, allah tera nigehbaan" (Abdullah, 1980). This Manna-da lullaby finds similarity to the Kishore Kumar solo "Jaane-jaana" from Pancham's own Samadhi (1972), albeit at slower clip. What a pleasant contrast!
Note the change in tempo in "Laapa chaanga mein naache" (Ek Se Bhale Do, 1985) with the chorus start moving smoothly from a slow to fast tempo. Also take pleasure from the "saare ke saare" prelude, inspired from the 1972 RD movie – Parichay. Some more similar splendid examples – the rocking Disco to mellifluous Bhajan sway in "Zindagi yeh kaisi hai" (Swami Dada, 1985) and the seductively unhurried to the explosively frenetic swing in "Kaanp rahi main" (Joshila, 1973). RD Burman's supreme grip over the language of song rhythm continues to amaze!
"It was Pancham's extra effort to nurture and nourish his tunes that made them special", lyricist film-maker Gulzar had once remarked. Observe the added care and attention infused in "Naa deko naa" (Bengali Pooja album, 1986). The impactful sound effects and multiple variations on the Sarod, Tabla, Sitar and Guitar make the enjoyment two-fold. Ditto with the Christmas-bells and drum-filled "Raat Christmas ki thi" (Dil Padosi Hai, 1987). Both fabulously mounted creations grandly enhanced by their neat and crisp recordings.
It is well-known that RD's sound output owes largely to the excellent recording equipments, sparkling use of Stereo and not the least, meaningful contribution from the composer's expert sound personnel. The 1st guest for the evening, Ashok Shukla has been one such recordist and sound engineer from his team. A student of Pune's Wadia College, Ashokji debuted with the movie Shalimaar (1978); later going on to endorse himself as Pancham's primary recordist through the years.
"Sound engineering, in simple terms, comprises rehearsing, balancing the output to get the right sound levels, recording, mixing on different tracks and finally transferring on to the film. The essentials for first-rate sound are a good composer, good music arrangement, a good set of musicians, a proper recoding studio and a good sound engineer" Ashokji explained A ready illustration of this – "Dil ki baat kahin" (Teri Kasam, 1982)!
"Pancham was a perfectionist; he knew exactly what he wanted. One day I had made a mistake while recording a song from 'The Burning Train' (1980); he ensured that the entire song was redone the next day. That was the level of his precision" Guess which song was that? The likeable Kishore-Asha duet "Vaada haanji vaada" with its superb crackling sound. "For the song Naye purane saal mein (Raksha, 1981), Panchamda literally shook the singers to get the required quivering effect!" recounted Ashok Shukla.
"Panchamda was involved right from the conception stage of songs and recordings. His understanding and sense of sound was brilliant. Take the case of the Basanti chase scene from Sholay (1975). Without the back-ground Tabla beats, the effect would have been only 25% of what we finally saw on screen" emphasized Ashokji. The impeccable recording canvas in compositions like the 'Jalpari theme' (Sagar, 1985) and the title tracks of 'Aaja meri jaan' (1993) and Chor Police (1983) further prove the points made.
Explaining the instance of two drummers in "Meri aankhon mein" (Andar Baahar, 1984) and specific percussive instruments in "Aao mere paas aur" (Kaun Kaise, 1983), Ashok Shukla illustrated how different sounds enhanced the overall effect in these songs. "The memories of Pancham are many. He remains special for me since he was the first composer to start rehearsals for sound engineers. His recording sessions were like Picnic with lots of fun, though work-wise we were all serious", recollected Shuklaji. "Agar woh aaj hote, kaafi log hote hi nahin…" he concluded emphatically!
It was now the turn of notable multi-faceted musician Homi Mullan to take center stage amidst great applause. The champion percussionist from RD's music team has been a darling for the Pune crowd. Not willing to disappoint them, he expertly demonstrated a variety of instruments, this time along with the original sound tracks! Pieces of the Khopdi Tarang, the Cobasche and the Duggi for "Rooth na jaana" (1942-A Love Story), set the expectations high right away.
"It is challenge to play with the original sound tracks" Homiji made a point. "One mistake and you are gone!" As a true seasoned artiste, the musician showed his class with the Afro Harp in "Jab andhera hota hai" (Raja Rani, 1973) and "Suno bai baarati" (Warrant, 1975); the metallic plate and the impactful Daphri in "Dilbar dil se pyare" (Caravan, 1971) and "Muttu kullika vaarigala" (Do Phool, 1973). A 'once more' request for the Mehmood number charged up the entire floor as was the case with the South-Indian instrument Chanda in "Bachna ae hasino" (Hum Kisise Kum Nahin, 1977).The audience's involvement had reached its peak by now.
"Generally, Ghoda-gaadi songs focus on the Tonga rhythm; note how Pancham intelligently used the rhythm of the wheels in "Musafir hoon yaaron" (Parichay, 1972)". The use of the Bongo with a brush stamps Pancham's undying hunger to experiment, Cawas Lord's extra-deft fingers and Homiji's ace skills to reproduce the same on stage. Some more novel attempts ensued – vessels in "Bachke rehna re" (Pukar, 1983), African Resso Resso in "Gulabi aankhen" (The Train, 1970), "Hawa ke saath saath" (Seeta Aur Geeta, 1972), Khanjri in "Khatouba" (Abdullah, 1980) and an exhibition toy producing the 'tik-tik' sound in "Aaja tujhe sunaoon" (Mangalsutra, 1981).
The first half coincided with the announcement of sponsor Shemaroo's stall that included a few new video titles – the release of the long-awaited 1973 film 'Bada Kabootar' being exclusive for Pancham lovers. The visuals from the 1984 movie 'Andar Baahar' gave a hint of what was in store for the programme's second half.
The curtains reopened welcoming famous director Raj Sippy on stage. Son of illustrious film-maker N.C Sippy, Raj began his career as assistant to director Gulzar – some landmark movies to his credit being 'Mere Apne', 'Koshish', 'Parichay', 'Achanak', 'Aandhi', 'Khushboo' and 'Mausam'. He later established himself as independent director with 'Satte pe Satta' (1981) 'Qayamat' (1983) 'Boxer' (1983), 'Andar Bahar' (1984), 'Shiva Ka Insaaf' (1985), 'Sitamgar' (1985) and 'Jeeva' (1986) – all of which had music by RD Burman.
"My relationship with Pancham goes back to 32 years. I always called him 'Punch'. He was not only a music-director for me, but also screenplay writer giving me visuals for my songs" Raj fondly reminisced. "For example, when we were discussing actor Sachin's character in 'Satte Pe Satta', he came out with the idea of the Mouth-Organ, which went so well with the actor. Hats off to Pancham! I can say the two songs "Jhuka ke sar ko" from this movie and "Roz roz aankhon tale" from Jeeva (1986) are entirely his. He takes total credit for the final output".
The prominent recording studio version of "Jhuka ke sar ko" in RD's voice thrilled viewers to no extent. "I need to mention this special incident during the recording of "Dukki pe dukki" when he sang as well as played the Mouth-Organ. He sang his piece on one microphone, went to the 2nd to play the Mouth-Organ and then came back to the first one for his vocals. Such was his zeal and enthusiasm for music, he was very different!"
"Not many people realize he was a very good singer too" said Raj. The ear-pleasing rare studio 'Shanta Apte' version of "Hai mubarak aaj ka din" (Boxer, 1983) is a case in point. Mark the power and force in Pancham's awe-inspiring voice, replete with the composer's unmistakable sincerity and commitment.
"Pancham was a master at generating ideas for back-ground music scores. The use of a gargling Annette Pinto to show the fright at Danny Denzongpa's entry in 'Andar Baahar' is what I call as real innovation. The same piece was used for the villain in 'Sitamgar' and also for Dharmendra's entry in 'Qayamat'. The enjoyable energetic video version of "Pyaar hamein kis mod pe" (Satte Pe Satta, 1981) with its story of RD prompting beta Amit Kumar to motivate papa Kishore Kumar spoke a lot about the times and the special friendship between Raj Sippy and Pancham!.
"He was one of a kind. Nobody can take his place. It is impossible for anybody to match his creations, even with the technology that is now available". Requesting to play his favourite songs "Mausam pyaar ka" and and "Kisi gareeb ke dilse" (Sitamgar,1985), Raj Sippy complimented Panchammagic on their fantastic job to keep alive the legacy of RD Burman's music.
The concluding session with musician Shyamraj perfectly summed up an eloquent evening. The Tenor Sax and Soprano Sax player, who worked with Pancham from 'Gurudev' (1993), presented a lovely mix of instrumental versions – "Piya tu ab toh aaja" (Caravan, 1971), "Mehbooba mehbooba" (Sholay, 1975), "Yeh jawani hai diwani" (Jawani Diwani, 1972), "Dum maro dum" (Hare Rama Hare Krishna, 1971), "Tum kya jaano" (Hum Kisise Kum Nahin, 1977) and "Aanewala pal" (Golmaal, 1979).
The launch of project 'Matinee Magic'- a guaranteed assurance from Panchammagic to collaborate and relive joyful moments on video, the funny story of Pancham not offering sweets mixed with 'Bhang' to Ashok Shukla, and Raj Sippy's overwhelming comment " If you don't give freedom to Pancham, you are creating a grave" are some instants that continue to stay.
May such bonanza continue. As we move in to Pancham's 70th birth centenary year, may the nectar of Pancham's melodies continue to flow. We hummingbirds await the onset of year 2009 for another potion of the heavenly loRD drink. As the curtains begin to unfurl, the lights switch on, get set for one more unforgettable excursion…a ride down memory lane, full of noble sentiment and imperial style that befits thy name Rahul Dev Burman!
Shankar Iyer
---