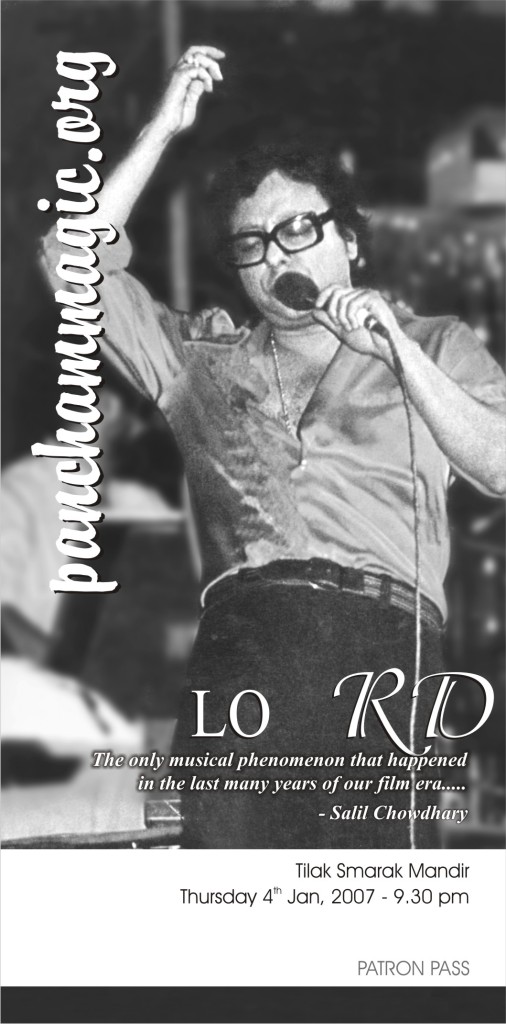 Guests :
Kersi Lord – Accordion, Synthesizer
Usha Uthup – Singer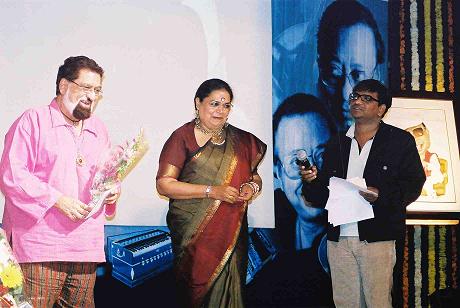 Another evening I was devotedly waiting for. In fact impatiently looking forward to, as if the world hinged on it. RD Burman's 13th death anniversary had arrived…The metro-ethnic charm of Pune beckoned me with its wide open arms…'Tilak Smarak Mandir' was just three and a half-hours drive away…
A pleasant bell ring signaled an end to the long wait at the auditorium. The podium wore a likeably altered look thanks to the curious but endearing portraits of Pancham. The curtains began to withdraw even as music lovers were getting seated…amidst the blazing competition track from 'Hum Kisise Kum Nahin'. Welcoming all, host Ankush commenced yet another Panchammagic journey of exploring RD Burman's music. A specially designed garland for the loRD, with blessings of mother Meera Dev Burman, let the mood sink in…The 'Pancham Punch' theme attempted to unearth the underlying allure of RD's compositions.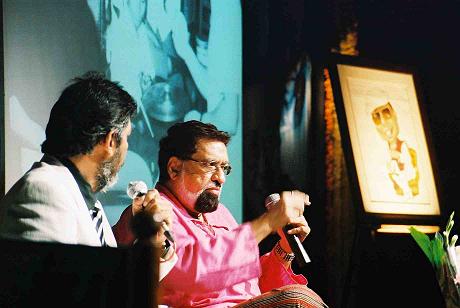 Tune and rhythm have always been the spine of RD's music, but the definitive punch has come from a stunning combine of brass instruments (Saxophone, Trumpet), String instruments (Electric Guitar, Bass Guitar, Violin, Santoor) melody instruments (Piano Accordion, Organ, Keyboard) and percussion instruments (Bongo, Congo, Tumba). The intro piece of the foot-tapping and popular "Jahan teri ye nazar' (Kaalia) is a case in point. Highlighting some unusual but remarkable fillers – Dummy words 'Ru ru tu ru ru ru" in the riveting "Aao na gale lagao na" (Mere Jeevan Saathi), Union of Tabla and Chokes in the rhythmic "Gali gali dhoondha" (Jawani), Clashing Claff (a pair of simple sound sticks!) in the haunting "Ek baar jaan-e-jaana" (Kaala Sona), Distinct 'Pick-up' in the pleasing "Suno kaho" (Aap Ki Kasam) and changing arrangement pattern in the Bengali puja number "Maacher kaata"- the point of the 'Force' in RD's compositions was made effortlessly.
Quite curiously and uniquely though, the classic Tabla thekas compensate for the absence of a side rhythm in "Bheeni bheeni bhor" (Dil Padosi Hai). The session ended with "Ishq mera bandagee hai" (Yeh Vaada Raha) in two forms – Pancham's studio version and the recorded Kishore version – perfectly summing up the punch in Pancham's music, which we have grown and lived with all these years…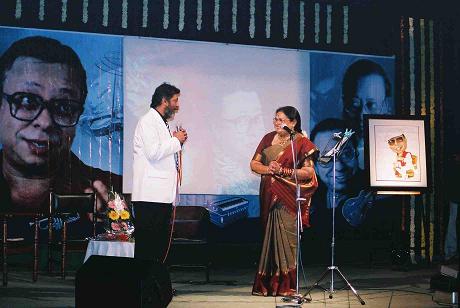 The timeless 'Shalimar' background music welcomed the first guest of the evening on stage. The connoisseur gathering sat up to take notice of living legend, Kersi Lord, who had also played the unforgettably jazzy accordion pieces in "Roop tera mastana" (SD Burman's Aradhana). Mr. Lord's association with a vast variety of instruments including the Piano Accordion, Synthesizer, Organ, Drums, and other percussion instruments immediately established his incredible versatility and caliber as a musician. The story of his interesting entry to Hindi film music, courtesy father Cawas Lord, was interspersed with his nostalgic drums in "Tumne mujhe dekha" and Piano accordion in "O mere sona (Teesri Manzil). Dispelling common thought that "Main chali, main chali" (Padosan) might have had two piano accordions playing simultaneously, Kersi Lord explained how he played both the melody and harmony sections of the song together.
Speaking on his early days of learning to play the Piano Accordion, Kersiji remembered Maruti Rao Keer, another musical pillar from RD's extraordinary team. A perfect song for the occasion – the fabulous "Yaaron hamara kya" (Abhilasha, combining Lord's Piano accordion and Maruti Rao's lovable "Eh" in the mukhda). "Na koi dil mein samaya" (Aa Gale Lag Jaa) only underlined RD's composing genius and the lasting appeal of Kersiji's immortal Piano accordion pieces. The video of "Eki bhalobhasha" with Kersi Lord on the Synthesizer was an added delight for the viewers.
Fascinating anecdotes involving sitting sessions with RD followed; the challenge of creating different sounds on the Synthesizer leading to – The 'Bubble effect' in "Main jhonka mast hawa ka' (Double Cross), the repeating 'loops' in "Suno Sitamgar" (Zabardast), the keyboard whistle and notes in "Mamaiya kero mamma" (Arjun) and the awesome blast of "Dil lena khel" (Zamane Ko Dikhana Hai) . Some more creations emphasized the loRD – Lord chemistry viz. the 'Bell Tree' opening in "Aye sagar ki lehrein" (Samundar), and the keyboard fillers in "Poocho nahin dil mera' (Qayamat).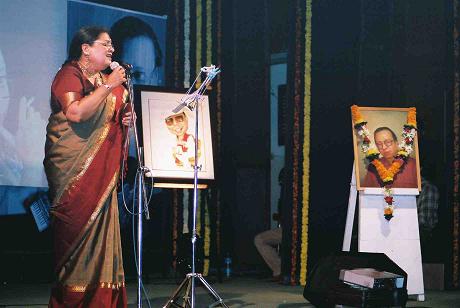 "Pancham had a great sense of music; he loved the Bass Guitar, while other music directors were running away from it. The Tabla and the Dholak were only being played. If he were alive today, there would have been no other music director!!" said Kersi Lord paying tributes to RD's musical gift and talent. "He was like family" he remarked. The icing on the cake – the forceful bullet sound in "Pyaar ne dil pe" (Mahaan) and the distinctly different 11-beat Shalimar back-ground illustrated nicely by Kersiji on stage. Truly, Panchamda was one composer who got the very best out of Kersi Lord's penchant for effects, improvisation and ease with audio-electronic equipments!!
The session ended with the crisp and sweet inauguration of the Panchammagic 2007 calendar by Kersi Lord and Usha Uthup, the second distinguished guest for the evening.
The curtains re-opened with "Doston se pyaar kiya" (Shaan) to welcome noted playback singer and 'Shubi dubi' girl Usha Uthup. "RD is the most re-mixed of all composers" she acknowledged. Overwhelmed by the occasion, Ushaji expressed her deep thanks to Panchammagic and quickly captivated the 900-odd audience with her engrossing narrative style and gifted humour. Belonging to a family of six children, her singing career began in the late 1960's at various nightclubs of Mumbai and Delhi. This was when Pancham met her and offered her an opportunity to sing in films. Result – The explosive title song in "The Train" (1970).
Fondly remembering the days of "I love you" (Hare Rama Hare Krishna), "Listen to the pouring rain" (Bombay To Goa) and later "Preme pore jai" (Bangla puja number), Ushaji spoke highly of the special friendship she shared with Panchamda. The audio track of "One two cha cha cha" (Shalimaar), with the quaint 'South Indian connection' to "Mr.Naidu" was a clear knock-out. Another tribute to the undying spirit of Puneites – video clip of a Pancham recording with Boy George. The visual energy, thanks to the studio mood and RD's limitless joy, permeated right through…
Narrating legends around the making of "Chura liya" (Yaadon Ki Baarat), "Jab andhera hota hai" (Raja Rani), "Dhanno ki aankhon mein" (Kitaab) and "O Hansini" (Zahreela Insaan), Usha Uthup explained how Pancham brilliantly improvised to give the final output. "Only he could do that", She claimed. Singing in her own inimitable style, she shared her personal RD favourites – "Dukh sukh ki har ek" and " Hamein tumse pyaar kitna" (both Kudrat) and "Tumi kato je dure" and "Agami shishura" (both Bangla puja numbers). One could see her eyes getting moist…After all, she had gifted a spoon to Pancham which said "I am your greatest chamchi". Touching enough!!!
"Deliver straight as required by the music director" "Imitate the character" "Gaana chaba chaba ke gao" – were some of RD's messages to the Usha Uthup. "Panchamda placed his heart above all, He was a great human being" cried Ushaji. Adding a cynical touch to her feelings, she however exclaimed "What's the use of the bunch of flowers being offered now, when he asked for a single rose to smell?" Perhaps there is some truth to these words…"Nothing in life is only Black and white, there is always a grey element to it" RD used to say…
Thank you Panchammagic team for leaving us with this lingering thought…You can always be assured of our continuous committed support and encouragement. Your daring concept to pay tributes in the Original form to Pancham's multi-faceted musical acumen will certainly re-assure the loRD up there!!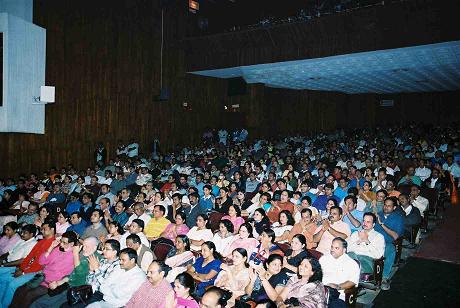 Sure, many more of RD's musical facets still wait to be explored. Never mind. We patiently await the next occasion – the dawn of 27th June, 2007 – to experience the contentment of embarking on another Panchammagic discovery voyage!!…And our collective bouquet of flowers, in its purest form, will go a long way in spreading the fragrance of Rahul Dev Burman's music…that continues to blossom forever and forever!!
Shankar
A fantastic and elaborated view. Thanks Shankar for expressing it.
I will fill up some gaps in between :
One anecdote abt Roop tera Mastana told by Kersi
Kersi told how Senior Burmanda narrated him the situation of the song
" Ek ladki ek ladka baarish mein bhigte hai… ek room ke andar, bas.. that it Now you add whatever u can add."
He also highlighted the fact that the whole song was shot in one go Start.. to.. End and wanted the audience to view the song again in this aspect.
Regarding the panning of the bullet effect of "Pyar mein dil pe" , Kersi told that it was time when "McKena's Gold" was around it had a beautiful effect of the bullet which relvolved around in the valley. He and Pancham were inspired by this shot and wanted a kind of that effect.
Another incidence he told was about creation of the song "Dil lena khel khai" from "Zamane ko dikhana hai". Once Pancham was trying some experiments on Kersi's instrument.
He suddenly called Kersi and asked to listen how the notes sound, and said "now lets frame a song around these notes." Thats how the song was created.
Usha Uthup said that she enjoyed a different relationship with Pancham. They used to exchange and listen quite a lot of western music. Pancham used to get energised and say " iska kuchh karte hai" whenver he would come across a tune worth inspiring.
She sang a song from " Summer of 42″ and beautifully arrived at "O hansini". The audience was floored.She also weaved arround the lines of "if its tuesday / chura liya hai" and "age of aquarius/ jab andhera hota hai" to entertain and underline Pnachm's selective and enhancing inpirations
She gave audience the shock when she told that Panchma's Dum maaro dum was actually proposed to be a duet of Ushajee and Lata M. The proposal however didn't materialise. But Pancham still wanted her to give a song , hence came the extended version in the form of "I love you".
All in all , Usha jee was a rare combo of light-heatred still very serious when she sang ( Thats what she quoted " Entertainment business is a very serious work), very orthodox in look( strict middle class values) still very much modern in her voice and approach.
Sudhir K.
---